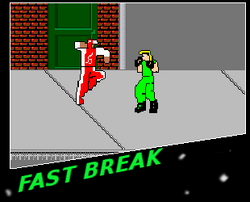 Fast Break is a 2017 video game releasing on Windows PCs, Android, and Razer Forge TV. It is the first product to feature Guardian Collective/Justice Horizon characters.
The game is categorized as an "infinite runner", and stars Brock "Fast" Break, a Chicago karate teacher who has superhuman speed.
Ad blocker interference detected!
Wikia is a free-to-use site that makes money from advertising. We have a modified experience for viewers using ad blockers

Wikia is not accessible if you've made further modifications. Remove the custom ad blocker rule(s) and the page will load as expected.